Victory or Loss for the Wizards?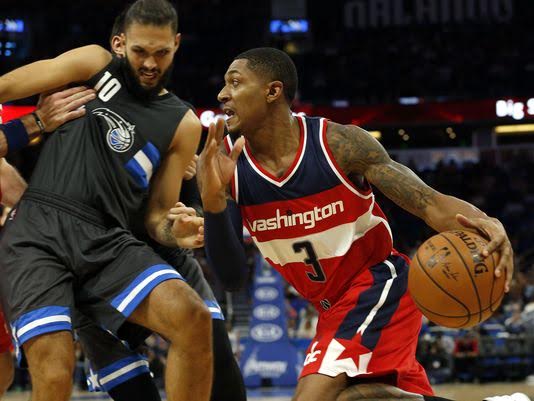 Anna Kim, Co-Editor in Chief
December 3, 2016
As the Washington Wizards work hard to be the new NBA champions, they celebrated their sixth win of the season on Sunday. They beat the Orlando Magic 94-91, however, a victory was not the only news of the game for them and the fans.
On November 27, Bradley Beal, shooting guard for the Wizards, was fined $15,000. During the fourth quarter, Beal tried to break up a fight between Kelly Oubre and Bismack Biyombo. In the midst of the fight, a conflict began between Beal and Evan Fournier. He reached out his arm and grabbed Fournier's neck. Although no one was hurt, Beal's tight grip left a red mark on Fournier's neck. Not only was Beal fined, but he was also called for a technical foul alongside Fournier, Oubre, and Bismack costing, them $2,000 individually.
The throat grab might have been unintentional, but basketball fans have been left with a new impression of Beal. Connor Ishida (10) said, "I'm not a big fan of the Wizards, but I've always thought Beal was a good player. It's a shame what happened to him. It wasn't an action he meant to do, but it just happened and now, he's created a new image for himself."
Although some believe that Beal's action was on accident, others are unsure. Rina Hong (10) said, "To me he's [Beal] just an average NBA player. Even though he says his action wasn't intentional, I think that he meant to do it, but the moment was a blur to him so he didn't mean to take it too far as to leave a hand mark."
Beal might have been fined, but their season is not over yet. Make sure to tune into ESPN this Monday as the Wizards will be playing the Brooklyn Nets.