Remembering Nelson Mandela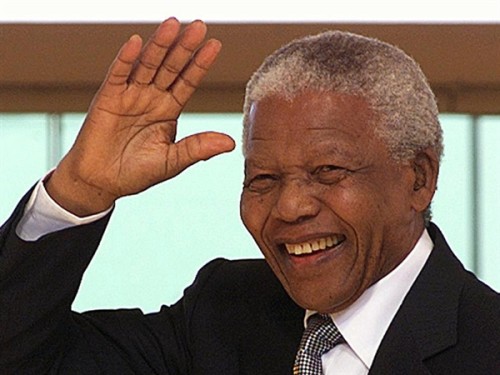 A philanthropist, politician, South African anti-apartheid leader, Nobel Peace Prize winner, and the first black President of South Africa for six years, Nelson Mandela died at the age of 95 on December 5th, 2013. For a man who accomplished more than most in his lifetime, Mandela faced a multitude of hardships in order to try and bring more equality to South Africa. He was imprisoned for 27 years for supposedly committing treason and political offenses.
Many people remember Nelson Mandela and his impact. President Barack Obama stated, "A man who took history in his hands and bent the arc of the moral universe towards justice," a short and sweet statement that justly describes Mandela's everlasting impact. Astronaut Buzz Aldrin wrote, "Rest in Peace Nelson Mandela. A true inspiration and role model for peace and international collaboration. We will continue to learn from him." Even though Mandela is not with us now, he is still an inspiration for all.
Secretary of State John Kerry remembered spending Thanksgiving with Mandela in 2007, saying, "I was struck by how warm, open, and serene he was. I stood in his tiny cell on Robben Island, a room with barely enough space to lie down or stand up, and I learned that the glare of the white rock quarry permanently damaged his eyesight. It hit home even more just how remarkable it was that after spending 27 years locked away, after having his own vision impaired by the conditions, that this man could still see the best interests of his country and even embrace the very guards who kept him prisoner. That is the story of a man whose ability to see resided not in his eyes but in his conscience. It is hard to imagine any of us could summon such strength of character." Mandela had the courage to see past his own troubles in order to help the world become more peaceful.
Even musician Paul Simon stated, "Mandela was one of the great leaders and teachers of the twentieth century. He conceived a model for mortal enemies to overcome their hatred and find a way through compassion to rebuild a nation based on truth, justice and the power of forgiveness. His passing should reignite a worldwide effort for peace." It definitely should.
Every single person should be encouraged by his accomplishments and sacrifice so that they can make a difference in the world. Mandela's death strikes us as an enormous loss, but we should see him as an inspiration. Mandela's achievements will inspire many stand up for what's right in order to make the world a more positive place.