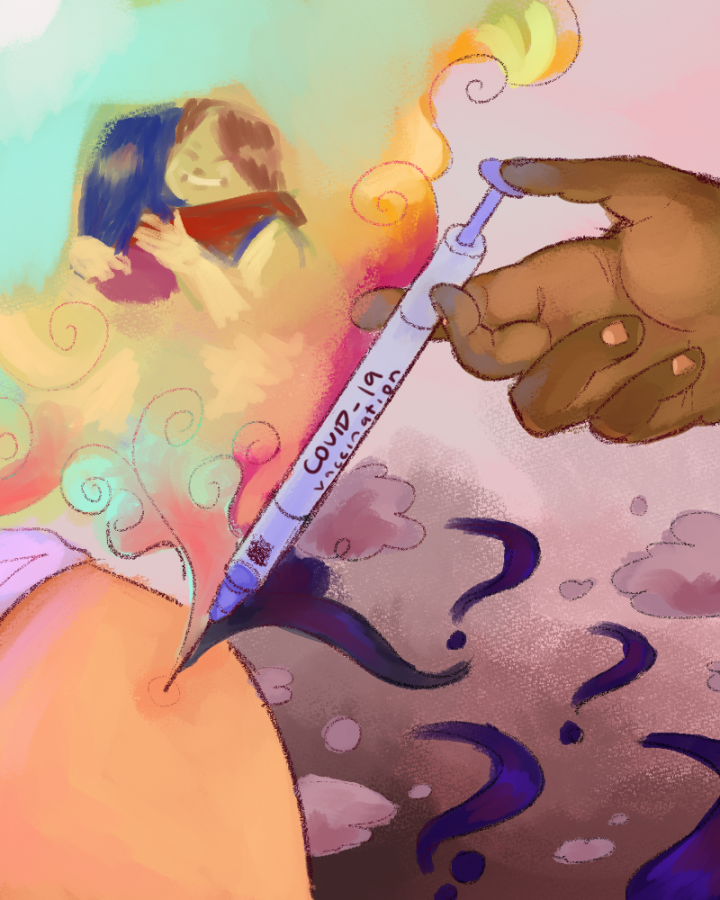 Lauryn Shin
     2020 was harrowing for mostly everybody. The fact that no end was in sight could be said to be the most strenuous of the torture, as tragedy after tragedy piled up along with quarantine life's daily stressors. Amazingly though, over the cold winter weeks (or as cold as Southern California can get), exciting news of two vaccines popped up just in time for the new year. It was about time, especially with the surge of COVID cases that's been crashing down in waves.
     Jordan Sasaki Bellan (11) ended up being caught in the sea of cases, at a rather unfortunate time. He was disgruntled, to say the least. "Couldn't [they] have just come out a bit earlier?" he joked in exasperation. Fortunately, he nor his family was hit too hard—save for a few headaches and a week or two in bed. The whole experience enabled him to give a unique take on the situation.
     He described, "The issue is how they're going to distribute [the vaccines]." With America splitting the agenda between the states, each one has to create its own plan of action. It allows for states to act in a way that they deem to be the most appropriate way specific to their own citizens, but it leaves room for a chaotic distribution. "It actually happened in Florida," Bellan added. Luckily, the free-for-all bonanza in the Sunshine State is different from the proceedings in California.
     Dr. Rubens Song described the process in detail. Song's a medical professional currently practicing at Kaiser Permanente. Being a first responder, Song's workplace offered vaccinations to their employees. After setting up an appointment Song walked in on the day of and was questioned about any allergies. Just like any vaccine, people can have an allergic reaction to the components. Depending on the severity of one's history of reactions, patients are advised to take the vaccine. He reported, "They get the vaccine off the refrigerator, then they just inject it in your arm. Then you wait there for 15 minutes," (30 if the patient has allergies,) "and if you're feeling fine, then sign off on it. They give you a little vaccination card, and schedule your appointment for your second shot." There are two doses required for each vaccine. Moderna has a 4-week wait for the second dose, while Pfizer has a 3-week wait.
     "Really, so far, it appears to be very safe. Anything, any medication, or vaccine has the potential for some rare side effects…but there is a lot of stuff people say," Song observed. He cleared the air about fainting as a resulting side effect too. These are stories from those that fainted due to the sight of blood, or out of a fear of needles.
     Dr. Kane Kuo, a certified medical professional, practicing at Torrance Memorial Hospital, and another vaccinated individual, concurred. He made sure to emphasize that the benefits of receiving the vaccine far outweighed any possible dangers. Though it would be optimal to work out all the kinks first, there's an urgency to the situation. The state of Torrance's local hospitals proves this, with stories of units being fully booked and long waits. Kuo further explained: "If you come in and you have appendicitis—and it has nothing to do with COVID-19—you might be waiting for hours because we just can't get to you, as much as we try." However blissful it would be, the harsh reality is that planners are on the clock. 
     The world waits with apprehension. The vaccine is here, but what will happen to the ones still waiting to get it? The ones already infected? Despite the questions still up in the air, the prospect of pulling this whole thing to a close is no longer just a fantasy. It's time to breathe a little easier, but not yet time to take off the masks.