Three National Monuments Vandalized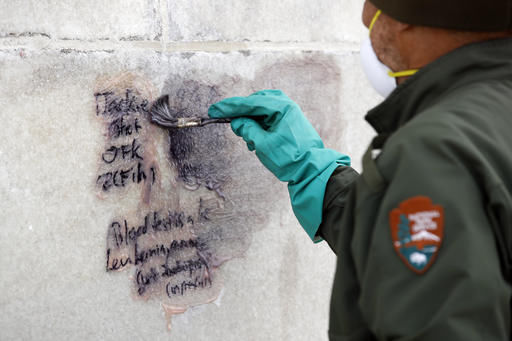 Over President's Day weekend three national monuments in Washington D.C. were vandalized. The vandalized monuments included the Washington Monument, the World War II Monument and the Lincoln Memorial Monument.
  According to The Washington Post, the vandalism was discovered by the U.S. Park Police and National Park Service officials, who reported that "the three sites had graffiti markings that were similar in nature" At the Lincoln Memorial, there were two messages; one on the steps and one at the foot of the steps. Another was found at the Mall on an electrical box. The messages left includes ones that mentioned, "Jackie shot JFK," the 9/11 terrorist attacks on the World Trade Center, that "blood testing is a lie," and mentioned HIV, leukemia, and cancer. The size of the messages varied from the of a palm of a hand to a football.
  Authorities reported that the vandalism most likely occurred on Saturday between 9 p.m. to 11 p.m. They are also asking for any person who might have seen anything to come forward with the information. Because investigators believe the incidents are related, they are working on analyzing surveillance videos from the different areas. Though the messages were not regarded as hate crimes, the perpetrators could be facing vandalism charges. Jessica Jeon (11) stated in regards to the case, "I think the graffiti is a way for people to express their opposition to the recent changes in government."
  This was not the first time vandalism of the national monuments has occurred. In 2015, a woman had reportedly vandalized several D.C. landmarks by tossing green paint on them. However, the case was dismissed because the suspect was incompetent to stand trial.
  The vandalism will require several treatments to remove with the use of solvents and is expected to take around two weeks to complete. Luckily, there should be no long-term damage. National Park Service (NPS) spokesman Mike Litterst stated, "Today, it is certainly an ugly scar. A month from now, the millions that come here to see it will not even be aware that this happened."