Entertainment Unit's Award Winning Performances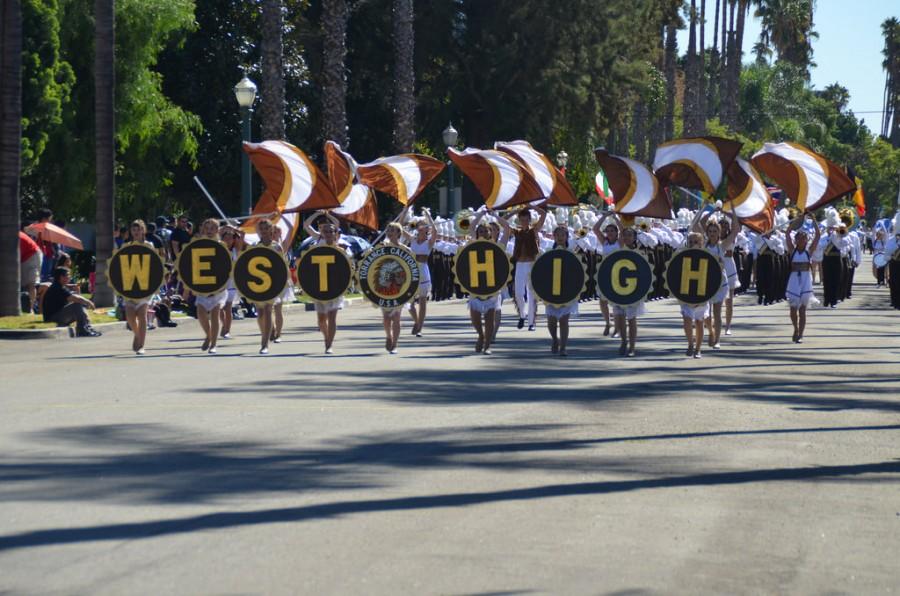 The West High Entertainment Unit, which consists of band, drill, and color guard, performed in the Loara Parade on the streets of Anaheim. Then competed at the Sierra Vista Field Tournament in Baldwin Park.
  The parade consisted of forty schools with five in WHEU's division. WHEU came in 4th out of the five schools.
  Regarding WHEU coming in fourth, band member, Sebastian Bonilla (10) said, "[Fourth] might not seem very impressive, but the points between the schools were very close which made getting fourth place not feel like such a drab." Separately, the three units all did well with Girls Drill Team placing 1st in the parade, Band placing 2nd,  and Color Guard placing 4th in the Axillary Open category.
  Drill Team member, Yuuka Hirano (10) said, "When drill got first, we were actually all surprised, but at the same time we were all really happy and felt all the weight [come] off our shoulders."
  Band earned 1st at the Sierra Vista Field Tournament and Brandon Mukigawa (11) opened up about winning first place in the field show. He said, "It felt amazing to win because it made all the hard work we put in during zero period and Monday night practices worth something."
  Twenty-four bands competed during the field show, with West High's band taking first place in the "Open" category against twenty-three other schools. Mukigawa believes that band is a "big commitment, but meeting new people in the process and spending time with friends everyday allows for a great marching season."
  Similarly, Riko Suzuki (12) felt the hard work put into preparing for these tournaments are always worth it in the end. Suzuki said, "[The] parade can be very stressful [however] it was still fun. Although [band] is a big time commitment and getting up for zero period every morning is tough, I've made a lot of great friends and memories through band and it's something I'm glad I did in high school."
West High Entertainment Unit's Results:
Drill team – 1st place in Anaheim parade
Band – 1st place with 78.4 Points for Music Performance and Visual Performance in Field Show
Color Guard – 4th place for Axillary Open with 70.0 points
Percussion – 2nd place for Open  with 87.5 points
WHEU – Visual Sweepstakes Trophy with 155 points
Band – High Music Sweepstakes Trophy with 329 Points