Hot and Happening Places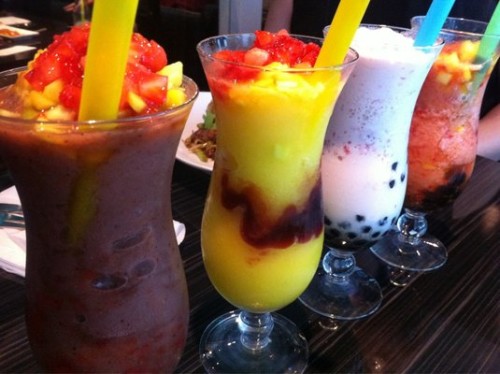 It's Friday! School's out and with the whole weekend ahead of them, students often find it hard to find decent places to spend quality time with friends while staying within their budgets. Particularly, teenagers in Torrance are restricted to the typical Del Amo mall, the expensive beach pier, and a few nearby fast food restaurants. However, many West Torrance students have decided to venture out of the box to discover popular food and beverage joints outside of the city.
The popular Cha2o in Cerritos is well known among West High students. This place is perfect for lunch, dinner, late-night snacks, and mainly, boba. From savory chicken wings and spiral cut fires to the calamari, Cha2o serves a wide ranged menu. Plus, their flavorful bobas are presented in an hourglass cup rather than the usual cup with a plastic covering punctured by a straw. Rishita Roy (11), a regular visitor, describes how "customer service is very nice. It does take a long time for some things to be served, but food quality is great and definitely worth the wait."
Urth Caffe, hidden on the corner of a street in LA, is fit for a nice brunch with a casual, naturesque ambience. The outdoor seating also gives customers an option to spend quality time with their friends without bothering other customers. After a few recommendations, Michelle Chu (11) decided to give it a try and commented, "Urth Caffe definitely lived up to its expectations. The coffee beverages were finished with great detail and beautifully served."
Out of these three places, Handel's homemade ice cream in Redondo has become extremely popular in the past two years. Especially during its Two Buck Tuesday, eating ice cream at Handel's is a great way to simply catch up with friends. In addition, you can choose from over fifty flavors of homemade ice cream, yogurts, sherbets, and more. During his experience at Handel's, Michael Tamaki (11) mentions, " People have been raving about how famous it is. After tagging along, [he] noticed the employees' kindness and undoubtedly enjoyed his choice of flavor: the Graham Central Station."
Next time, skip the typical mall hangout and grab a bite to eat at one of these popular out-of-town joints.