Who has The Voice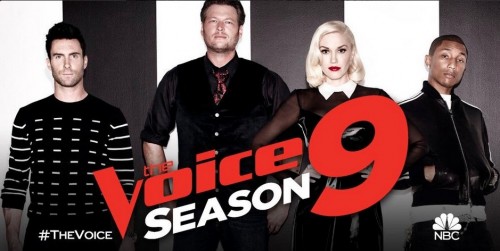 Behind the chair could either be an 80-year-old man with a banjo or a 15-year-old girl with a dream. It's that time of the year – when we figure out who has the voice that can mesmerize America. Last night, the 9th season of The Voice hit all the right notes to impress viewers.
  The Voice is a TV competition that focuses on the voices of people rather than their appearance through blind auditions. Contestants sing a song of their choice; and if the judges like what they hear, they press a button to turn their chair around and get a chance be chosen to coach the singer throughout the season.
  The judges for this season are country singer Blake Shelton, pop artist Pharrell Williams, Maroon 5 lead singer Adam Levine, and lead singer from No Doubt, Gwen Stefani.
   The season premier started off with the judges performing themselves to showcase their vocal ranges and musical talents. Despite the fact that there can only be one winner at the end of the season, the judges maintain a genuine friendship with one another and the contestants leaving viewers smiling ear to ear.
   After the concert-worthy exhibition by the judges, they revealed what makes it worthwhile to mentor aspiring singers into professional stardom. Pharrell said, "it's more about the artists than it is about it being a competition."
  The blind auditions distinctly set The Voice apart from other shows because judges are "blindfolded" and choose contestants with complete objectivity. Gwen said, "you think you know exactly what [the person] on to be other side of that chair [is going to look like] then you turn around and [it's nothing] like you imagined."
  Each contestant's introduction begins with Carson Daly – a TV host, producer, and radio personality – interviewing them and calming their nerves. This gives the viewers a sense of who the person is before she or he starts singing and impacts how viewers feel when the person with the saddest backstory ends up not turning any chairs or turns them all.
   The contestants that join the show want to be successful singers and The Voice gives them that opportunity to accomplish their dreams with star coaches. Keith Semple said "[I'm] so happy to have had the opportunity to do something great" and this show has given him the chance to completely change his life.
   Tune in tonight at 8 o'clock on NBC to see more people given the opportunity to live out their dreams!