Meet the Vamps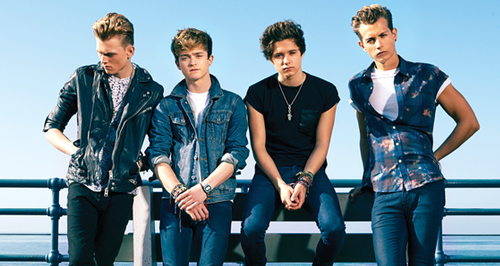 It started with a single cover video on YouTube. After 80 million views and 3 top singles, The Vamps have already achieved major success in the music world. Over the course of just one year, bandmates Bradley Simpson (vocals), Tristan Evans (drums), Connor Ball (bassist), and James McVey (guitarist) have reached international recognition from millions of fans. Thanks to YouTube, The Vamps were signed to Virgin EMI in the U.K. and were flown to America to record their first album, Meet The Vamps. The album features the popular songs: "Wild Heart", "Can We Dance", and "Somebody To You" featuring Demi Lovato. After multiple awards and almost 1 million YouTube subscribers, The Vamps are following the footsteps of other popular boy bands like One Direction and 5 Seconds of Summer.
The boys started their musical journey as solo artists but were brought together through social media and friend requests on Facebook. Now they're touring the world as a band and loving every moment of it. They're all shocked and grateful to be able to pursue their musical dreams alongside their best friends. James commented, "It's a really good blend of personalities. Brad is very chilled out…Connor is like Yoda. He's kind of quiet, but what he says is wise. Tristan is very energetic and positive. If there's ever a low moment, he will always make us laugh." The members couldn't have asked for a better group of people to work with and they feel very lucky to be doing what they love with the people they love. Not only are the hopeful for a greater future, they have a massive following with nothing but positive feedback.
Many critics like allmusic.com feel that this upcoming band has very popular influences which will help them reach even more success in time to come. "The Vamps have delivered an album that strikes a balance between the acoustic-driven pop of Ed Sheeran and Jacob Whitesides with the more pop/rock approach of acts like One Direction and 5 Seconds of Summer." The Vamps are able to reach a crowd of varying ages and relate to people all over the world with songs like "Lovestruck" and "High Hopes" and other songs from the album playing on radio stations in the U.S. and the U.K.
Although being compared to acts like 1D and 5SOS is not a bad way to break into the music industry, telegraph.com.uk commented, "Don't be fooled by their fresh faces, tousled hair and adoring fans – The Vamps are no One Direction. They co-write all of their songs, most of which have a rockier power-pop feel than those of Harry Styles and co." This band knows what they want to sound like and how they want to be viewed in the music world. Lead singer, Bradley Simpson added, "[We] take pride in the fact we play our own instruments and write our own songs," says Simpson. "We're not just a pop act." Having sold out New York City's Gramercy Theatre in just ten minutes, The Vamps are clearly on the rise to stardom.