Leelah Alcorn: "Fix Society"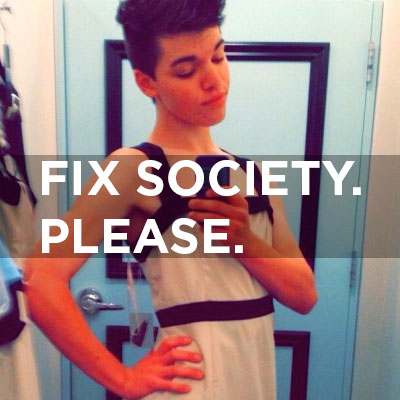 Three days before the New Year began, tragic news spread when  teenage, transgender Leelah Alcorn committed suicide and left a note which began,  "If you're reading this, it means that I have committed suicide and obviously failed to delete this post from my queue."
   Leelah Alcorn, a 17-year-old transgender female, committed suicide by stepping in front of a tractor-trailer on the Interstate-71 in Ohio on December 28, 2014.  She left a suicide note on her Tumblr blog, formerly known as lazerprincess before her parents asked the Tumblr staff to delete both her note and her blog.
   Alcorn condemned her parents not only for isolating her from her friends and support groups (on the Internet and off) but also for refusing to allow her to transition or see anyone who could properly treat her for her dysphoria.  An apology note was also queued to pass on her words to her friends.
    Kailee Koharchik (12), president of West High's Gay-Straight-Alliance stated, "Here's this girl who finally figures out who she is, which is a pretty hard thing to do, and to be completely rejected by the people who are supposed to love her drive her to suicide…this shouldn't have happened."
   On January 15, people were asked to paint their ring finger nail pink in honor of Leelah.  In addition, she requested that her family to donate all she had to trans civil rights groups and movements.  A vigil was held on January 3 at Kings High School in Kings Mill, where Leelah attended.  "Letters from as far away as Sydney were read throughout the vigil and testimonies were given by people as close as her neighbors," reports Anne Saker of Cincinnati.com.
   "To be honest, this whole thing upsets me so much…she had so much to live for.  She had dreams, things she wanted to achieve, things she wanted to pursue, but none of those things were looked at," said Hira Rizvi (12).
   "There is one good thing about this," Koharchik said.  "It went viral.  The issue is finally being noticed, and people are starting to do something about it."  The event spawned projects such as Leelah's Project and Leelah's Law, which aim to end harmful conversion therapy.  Leelah's final wish was that her death would not be in vain, but instead strike a change and spread awareness about the issues surrounding the LGBT community. Her final words were, "Fix society."