Bad Seed Rising: Charm City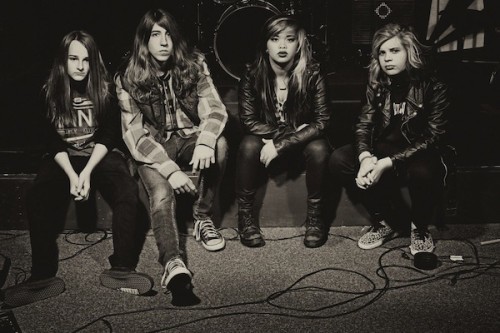 Four teenagers, one band, and pure hard-rock are rising to success one rock and roll beat at a time. One girl and three boys have come together to showcase their talent by doing what they love best: rocking out. They are better known as Bad Seed Rising from Maryland. From ages 12 to 16, Bad Seed Rising became Roadrunner Record's youngest band to be signed. Not only have they shocked the record companies, but also audiences all across the United States. Their drive and talent has taken them to unimaginable levels like the recent release of their EP, extended play five song album, Charm City. On April 15, with skilled help from producer Scott Stevens, all five songs from the EP had become lyric videos.
   Putting their age aside, the band has proven themselves to the media that they are much more than some kids in a band trying to buy their way to fame. With fellow Roadrunner bands, Bad Seed Rising has created connections with legends, such as Slipknot. Not to mention, last summer the band toured with hard-rockers, Black Veil Brides and 3 Doors Down. These young protégés are currently home-schooled in order to pursue their musical passion and make sure they have enough time to develop a chart worthy album. Just a year ago, Dave Rath, head of Roadrunner Records, was mind blown after watching Bad Seed Rising's video, "I Won't Be The One." He drove down to see them perform and signed them automatically. Although their age may be misleading and groups like Bad Seed Rising are rare, Rath commented, "The most competent and talented band that I'd ever seen for that age. It just stood out to me like, 'Oh my God, this is something you don't see everyday."
  Fully aware of their youth, the group has reached an unforgettable peak because their music portrays the hard work they have dedicated at the Frederick practice space, where they all took extensive lessons. Guitarist Mason Gainer laid out his elaborate riffs, while drummer Aiden Marceron created a strategic beat. Upon listening to Francheska Pastor's voice, no one would have guessed she was a 16 year old girl. They all agree that the best part of being in a band together is that they are able to prove the "trash-talkers" wrong. Heidi Lee (11) mentioned, "Their talent is undeniable and their age doesn't matter. I could listen to the EP on repeat."
  Their EP's release has so far been triumphant, with the group's first single "Hey Kid" on replay on popular radio stations. Playing LOUD music is what they love to do most and that's what they will always do. They aren't some wanna-be scene kids, but they are aspiring hard rock n' rollers. In the near future, Bad Seed Rising will be performing at Shindig Festival with some of their mentors like Rise Against, and will be embarking on a high school tour along the East Coast. Lead singer, Pastor, said, "I just want this to become so big that I don't have to do anything else in my life. Just play music and that's it." If there isn't enough new hard-rock in your life, Bad Seed Rising is the band to check out.