Chvrches Fly in From Europe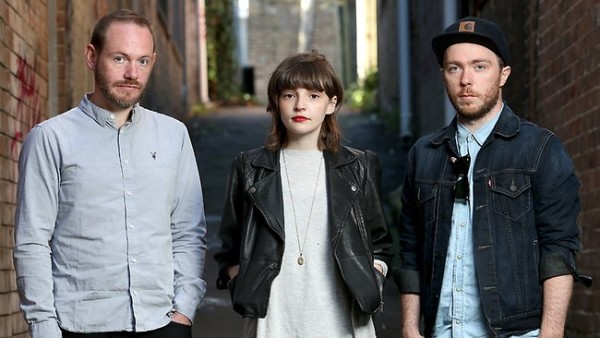 All the way from Scotland, the band CHVRCHES has arrived in the U.S where they are swiftly accumulating a fan base. Lauren Mayberry, Iain Cook, and Martin Doherty all hail from Scotland where they started off studying the broad world of electronic music. At first, this little band was nowhere to be found. However, in May of 2013, they released their first single, "Lies," which led them to be announced as BBC Sound of 2013 Top 5. In the span of less than a year, CHVRCHES sold out a UK and US tour, along with a performance at the SXSW Music Festival. For the band, their musical peak in 2013 was the moment they stepped on stage to perform with one of Europe's most popular bands, Depeche Mode.
   Both Cook and Doherty bring a unique sound to their band because of their fond interest in traditional instruments. Cook contributes his previous experiences of performing with his alternative-rock band and composing for television in order to add a versatile sound to CHVRCHES. Along side Cook's musical mastery, BBC The Sound described Mayberry's voice as a "cut-glass, sci-fi soprano rounded off with warm Glaswegian tones," provides a wide range of sound to work with. Cook and Doherty use various sounds and synths to create what they call "bright explosions." Last year, the band spent most of their time recording in a studio located in Glasgow, with mix expert Rich Costey, who worked with bands such as Arctic Monkeys and Nine Inch Nails. Right from the start, CHVRCHES was guided by a notable mentor.
    Their new album, The Bones of What You Believe, was released in September across the U.S. Heidi Lee (11) said, "They have a great 80's modern infused sound. On top of that, the dubstep is awesome." Every song is meshed together by their powerful, inspiring lyrics, and sci-fi, electronic bass feel. The recent release has already debuted on Sirius XM and striked Top 10 on Itunes. CHVRCHES has become widely popular amongst the younger generation due to their alternative sound. In 2012, they released their first single, "The Mother We Share," that gained them the edge to progress their music career. The single reached 2012's most played song on the Alternative Radio. For listeners interested in alternative, rock, or even electronic, CHVRCHES appeals to a broad audience in their homeland and the U.S.